WELCOME / BIENVENUE
Ladislas.C :  Illustration / Graphic design / Fine Art Prints
Check out a few of my projects
Welcome on Ladislasdesign.com: Online portfolio of Ladislas Chachignot.
French Illustrator and Digital Artist based in Marseille / France, Ladislas is working as a freelance. Specialized in "Digital Art"/ "Digital Painting", he's Influenced by "Pop culture", " illustration and design trends" and "street-Art" culture. He has a strong experience in the visual field. Developing its own identity, a modern and vivid graphic style that is mixing various things like "Digital Painting", "Vector Art", realistic portraits and special atmospheres using vibrant colors, Ladislas establish a way to communicate to his audience and make them feel emotions through image and Art. Passionated by movies and posters, he has created multiple Artworks and "graphic tributes" (as he likes to call them) about his favorite movies.
Ladislas is working for various companies and industry fields worldwide. His knowledge and creative vision got him selected as a judge in the international advertising contest "Moebius Awards".
Welcome on the website, feel free to consult his portfolio graphic universe in the portfolio section of his website. You can visit the shop/ boutique section and purchase some of his Alternative Movie Poster illustrations sold as fine Art prints.
Bienvenue sur le site ladislasdesign.com: Portfolio en ligne de Ladislas Chachignot.
Artiste Digital et illustrateur Français basé à Marseille, Ladislas travaille en freelance. Il est influencé par la "Culture Pop", le cinéma, le design graphique, le culture "Street-Art et graffiti" Ladislas possède une forte experience dans le domaine de la création graphique. Son style est caractérisé par son approche graphique et moderne de l'illustration qui mêle "Digital Painting" et "Art Vectoriel", Créant ainsi des visuels résolument vibrants, complexes et colorés mélangeant ces techniques et approches afin de construire son identité graphique unique et identifiable.
Spécialisé dans les portraits, Ladislas développe en parallèle des "versions alternatives et graphiques" de posters de films qu'il partage régulièrement sur les réseaux sociaux, ce qui lui permet à travers de multiples projets personnels d'élargir encore sa créativité et son experience en expérimentant de nouvelles choses dans ces affiches variées. Le dessin et la peinture sont au centre de sa création et il utilise les techniques classiques de peinture associés aux possibilités très novatrices des logiciels de création d'images afin de créer des visuels modernes, graphiques et communicatifs en émotions.
   Parcourez ses projets  via sa page portfolio et découvrez son univers graphique.
Vous pouvez aussi retrouver ses posters de films alternatifs en vente sur la boutique du site (rubrique shop) . Bonne visite !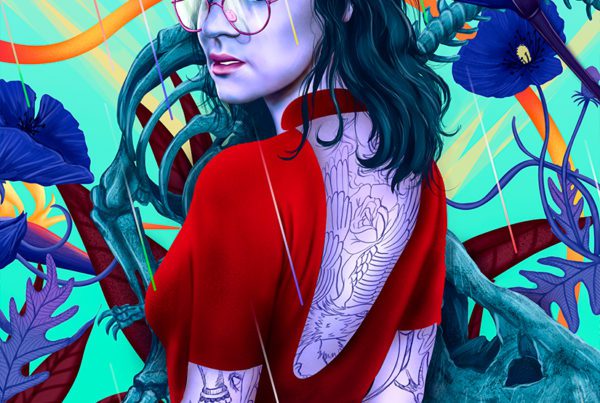 2018 Wacom Next Level Wacom ANZ & Just Another Agency have officially announced the 2018 "Wacom Next Level" exhibitions that will take place in Melbourne / Sydney and Auckland from…
Some Clients i already collaborated with :
Quelques clients avec lesquels j'ai déjà collaboré :