Home | Telescope Clothing T-shirts & Tanks designs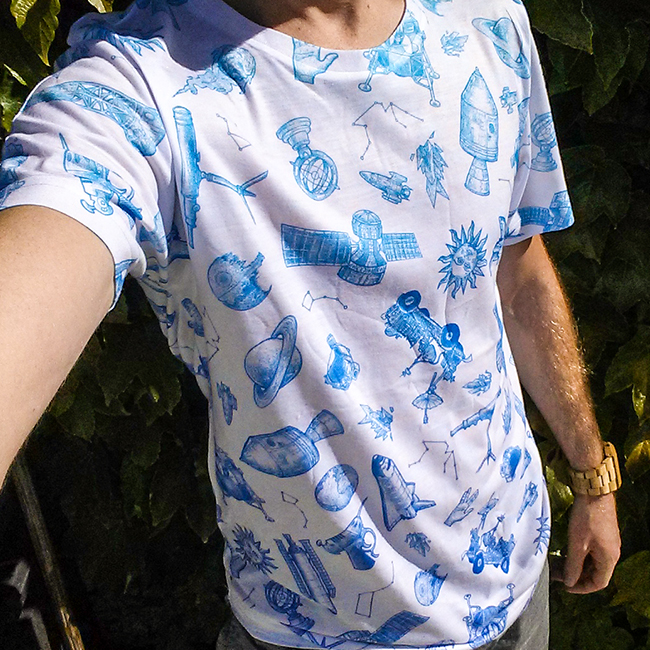 "Telescope Clothing"  Identity creation + T-shirt/Tank designs ( All Over visuals + classic)
Client: Telescope Clothing /  Year: 2015/2016
Nathan, owner and creator of the French clothing brand Telescope Clothing reached me and asked me to work with him on his brand. He wanted me to design a cool logotype that could reflect the universe of the brand. He's a cool guy who loves travelling and music, Art and illustration.We worked on his identity and built something that could reflects his tastes and also the philosophy of the brand : Adventure, fun, discovery and travels, quality and consciousness to build his collections.
I've worked on various logotypes and we finally stopped on a choice of a logo imagery and a typography that could be representing the brand.
I've also worked on various models for the brand , some of them will be published soon as part of the new collection.
In the previous collection, Nathan asked me to design an "All Over" model . The theme we worked on was a pretty exciting one :  "the discovery and exploration". I was free to design what i wanted. I've chosen to illustrate the Space discovery and design a graphic pattern made of spaceships elements, rockets and a few easter eggs for sci-fi addicts. I've hand drawn each elements on paper and then integrated these Artworks into a big one creating a big pattern. This design is made of 2 colored version , a white and blue and a black and white. The design was adapted both for T-shirt and as a tank shirt. It also was used as a legging for girls.
You can discover the process and details of the project just bellow.
You can discover the brand by clicking here : Telescope Clothing website
You can order the Discovery Tee All Over T-shirt here : Discovery Tee All Over
Art
Branding
clothing
colorful
Design
drawing
fashion
Illustration
Logo
Merch
T-shirt